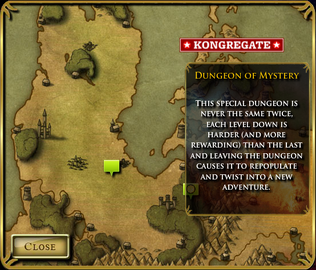 A dungeon that has a total of 25 floors and changes everytime you attempt it.
This Special Dungeon Is Never the Same Twice. Each Level Down Is Harder And More Rewarding Than The Last And Leaving The Dungeon Causes It to Repopulate And Twist Into A New Adventure.
Regular FLoors
Edit
Theres 16 different regular floors with enemies, gold, treasure chests, and crafting materials.
Below are the images of the following floors.
Artifact Floors
Edit
Besides the regular floors theres 4 floors with artifacts and a final and last floor 25 which is filled with treasure beyond your wildest dreams